The U.K.'s much-adored crime series returns with a new face in Midsomer Murders Season 16, airing on KMOS-TV beginning November 5 at 7 p.m. , 2020.DS Charlie Nelson (Gwilym Lee, Bohemian Rhapsody) will be busy, as the inhabitants of Midsomer county are not nearly as charming as the villages in which they reside.
Barnaby and Nelson barely have time to introduce themselves before they are thrown into an allegedly haunted manor, where a man has been fatally stabbed by an antique sword. The cases don't get any less bizarre, as the two detectives contend with killers employing medieval torture, stunt planes, and wild boars.
Nelson isn't the only new face Barnaby welcomes into Midsomer, as the finale marks the first appearance of his newborn daughter, Betty. Midsomer Murders is a classic whodunit drama with an established pedigree, arguably Britain's best-selling TV drama export.
AIRING THURDAYS AT 9 P.M. & SATURDAYS AT 7 P.M.
MARATHON ON KMOS EMERGE 6.3 DECEMBER 31 BEGINNING AT 11:00 P.M.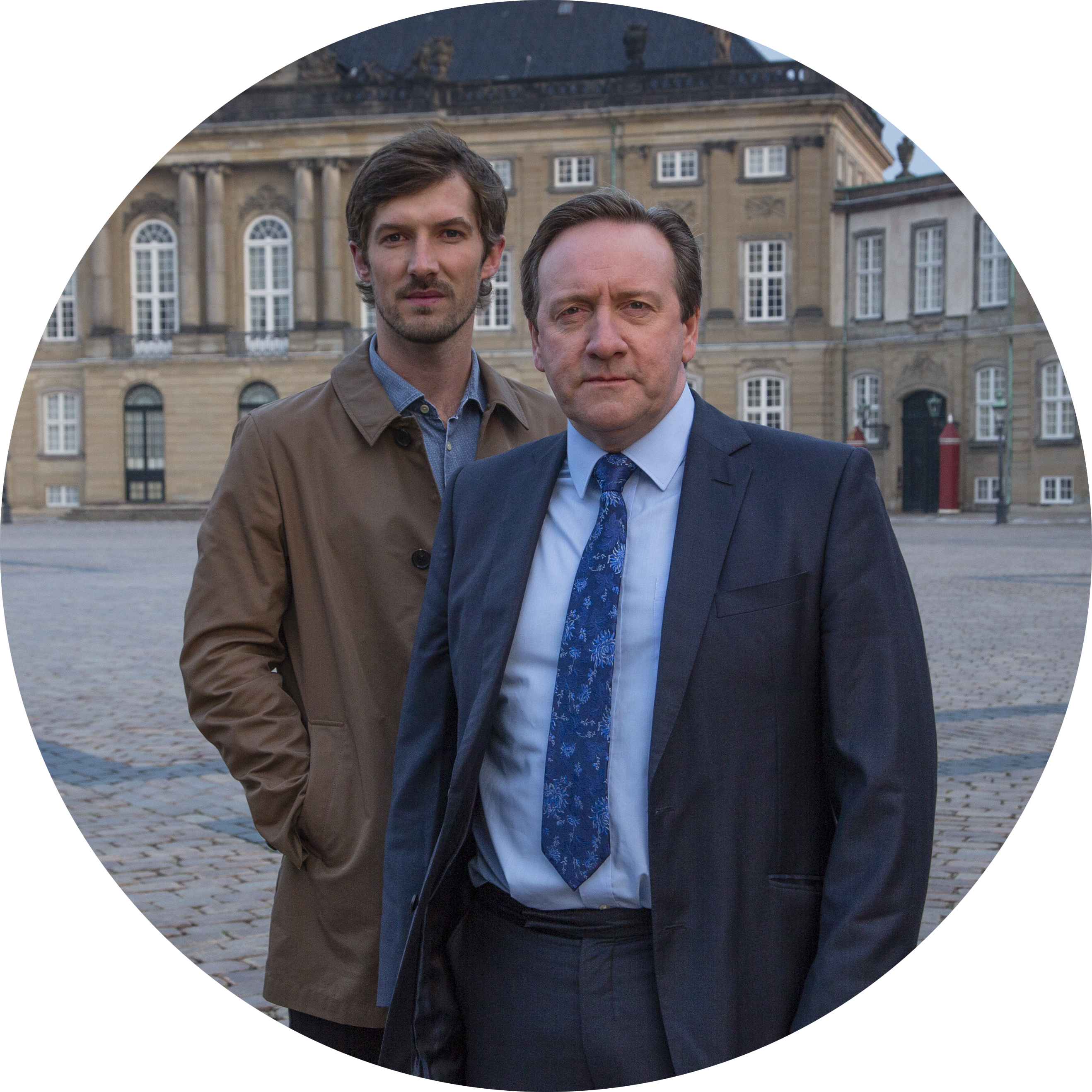 The Christmas Haunting (Part 1 & 2): It's Christmas and new detective Charlie Nelson moves into Midsomer. He's thrown straight into an intriguing mystery in the village of Morton Shallows. A man is fatally stabbed with an antique sword during a ghost-hunting party at a "haunted" manor house. Can Barnaby and Nelson find a more earthly motive behind the murder and trap the killer? This story features the first appearance of DS Charlie Nelson portrayed by Gwilym Lee.
Let Us Prey (Part 1 & 2): A series of murders in Midsomer St. Claire seem to be inspired by macabre images on a medieval fresco recently discovered in the church crypt. As the village prepares for storms and flooding it appears that someone is using ancient torture methods to punish modern-day "sinners." But who is responsible and why?
Wild Harvest (Part 1 & 2):When wealthy farmer Martin Strickland is covered in truffle oil and mauled to death by a wild boar, the investigation leads to restaurant Wyvern House and its tyrannical celebrity chef Ruth Cameron. Secrets from the past surface and the killer strikes again – but the poison spreads wider than its intended target.
The Flying Club (Part 1 & 2): When a body is discovered in a reservoir, having been dropped out of a plane, Barnaby and Nelson find the world of stunt pilots and military heroes hides many dark secrets. Are campaigners against the local airfield behind Bernard King's murder or does it link back to a tragic story from World War Two?
The Killings of Copenhagen (Part 1 & 2): 100th Episode When the boss of Calder's Biscuit Company is murdered in Copenhagen, Barnaby and Nelson join forces with two female Danish detectives, the abrasive and astute Poulsen and the charming and cool Degn. They discover Eric Calder had more linking him to Copenhagen than just his famous Golden Clusters. On the home front, we're treated to the first appearance of baby Betty Barnaby.
The Dagger Club (Part 1 & 2): The unveiling of a newly-discovered novel by deceased Midsomer crime-writer George Summersbee at the Luxton Deeping Crime Festival is jeopardized when the manuscript is stolen and a woman is fatally electrocuted by a booby-trapped roulette wheel. Can new dad Barnaby untangle a web of jealousy and obsession to find the killer?
Murder by Magic (Part 1 & 2): When a pub landlady is crushed to death during a magic show in Midsomer Oaks, Barnaby and Nelson uncover conflict between the village church and ancient pagan traditions. Is famous magician Gideon Latimer to blame or is he the target? Guest star Amanda Burton ( Silent Witness; Waterloo Road).
The Ballad of Midsomer County (Part 1 & 2): Could a ballad made famous by late, lamented folk singer Johnny Carver be an inspiration for murder. Did someone want to kill Toby Winning for threatening to take the Little Crosby Folk Festival away from Midsomer – or is the true motive something hidden for 20 years?
A Vintage Murder (Part 1 & 2): The fizz goes out of a sparkling wine launch when the glasses are laced with poison. Who is targeting the Midsomer Vinae Winery and what does the attack have to do with the death of a child in a hit-and-run accident? Guest star Claire Bloom (Doc Martin; Limelight) Last appearance of Tamzin Malleson as resident pathologist Dr. Kate Wilding.

Montmartre, Paris. A serial killer is stalking the streets. Five women are dead and people are afraid to go out after dark. The newspapers are rife with speculation. And Chief Superintendent Maigret is without a lead and under great pressure...
So starts Maigret Sets a Trap, the first film in this new crime drama based on Georges Simenon's classic novels. It is a story that sees the detective risk everything – his career, his reputation and even his colleagues' lives – to find the culprit. The second film, Maigret's Dead Man focuses on the murder of a gambler with connections to a brutal gang from Czechoslovakia whose members are robbing and killing wealthy Parisians. Georges Simenon is one of the most popular authors of the 20th century. Worldwide sales of his extensive collection of detective novels have made Maigret a household name around the world. Taking on a serious dramatic role for the first time, Rowan Atkinson brings this much-loved detective back to the screens.
" Rowan Atkinson, you will be delighted to know, is made for Maigret. He's bone dry, intelligent, but with a twinkle, or at least the potential of one "
Express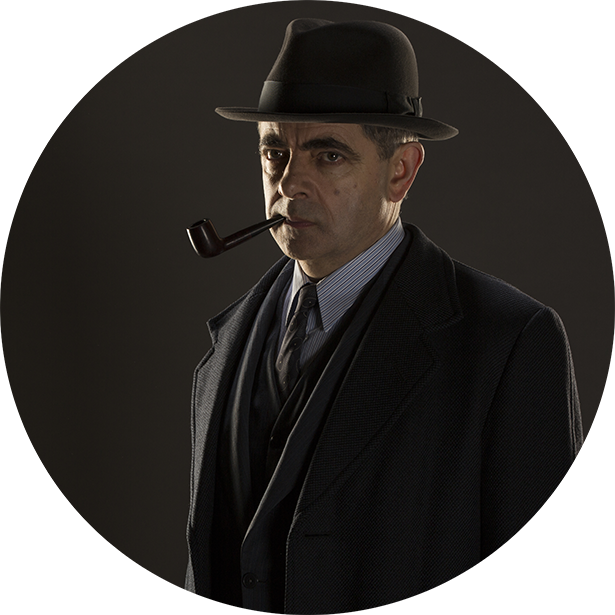 Maigret Sets a Trap:
Inspector Maigret is summoned to Montmartre to capture a serial killer who attacks dark-haired women. Using a policewoman as bait, he tries to lure his quarry into the open.
Maigret's Dead Man: When Picardy is struck with a series of attacks on wealthy farms, the elite Brigade Criminelle is sent in to find the culprit, but Inspector Maigret instead turns his focus on the death of an anonymous Parisian.
Night at the Crossroads:
Maigret faces a wall of silence from the inhabitants at a remote crossroads as he investigates the murder of a Jewish diamond dealer, killed in the dead of night.
Maigret in Montmartre: Maigret investigates the murders of a countess and a showgirl and discovers a dark secret that links their past lives at the Grand Hotel.